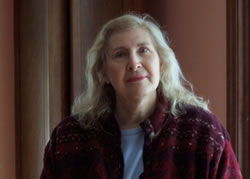 I began to draw as a young child. It was my way of disappearing into my own world. I studied music also, and found that the piano similarly brought me into another realm. I had a peaceful childhood with my mother, father, and younger sister.

My relatives: aunts, uncles, cousins, grandfathers, a grandmother gave me a fertile field in which I could enjoy a range of personalities.

In grade school and high school, my teachers recognized my interest in making Art, and encouraged me by sending me to saturday classes at the Art Institute of Chicago.
When I graduated from High School I knew then that I wanted to study Art seriously. I enrolled at the School of the Art Institute of Chicago, and earned a B.A.and an M.F.A.

In 1950, I met and married Henry Rago, a Poet and Professor at the University of Chicago. We traveled through Europe for almost a year. That was five years after W.W.II., when Europe was just recovering from that catastrophic event. I took advantage of the art treasures in the Louvre, the British Museums, the Uffizi, the Pitti, and the many hidden masterpieces in various churches. I came back to Chicago with a portfolio of drawings and paintings which I exhibited at the Kerrigan-Hendricks Gallery there. That was my first show.

Henry and I had four children, and we brought them with us when we went back to Europe in 1960-61. We settled in Florence, where our children were sent to a school founded by a Boston teacher, named Miss Barry. I was able to study at the Accademia delle Belle Arte. I produced a group of new work different from former subject matter,more abstracted. -a late abstract expressionist mode. I exhibited these works in1961 when we returned to Chicago at the Devorah Sherman Gallery.

Henry Rago died suddenly in 1969 and after barely recovering from that shock I began teaching at Barat College in Lake Forest, Il.

Later I was offered a full-time position at Loyola University, where I taught drawing, painting, life drawing, and anatomy. I became full Professor there, where I taught for thirty years. It was at Loyola where I met Professor Robert Mcnamara, Sociologist. We lived happily together for twelve years until he died suddenly. I was sustained by my teaching and by friends and family, and devoted myself to them and to my work, which evolved and changed over the years, becoming abstracted, developing into collage.

I had numerous exhibits and was awarded fellowships at a number of Art Colonies: Yaddo, New York, The Vermont Studio Center, Ragdale, Lake Forest, Il. the Virginia Center for the Creative Arts, Ucross,Wy., and the Byrdcliff Center, New York. In each of these colonies I was influenced by the local landscape: The hills of virginia, the mountains of Vermont and Wyoming and upstate NewYork, the prairies of Illinois. Each place re-introduced me to the natural world, and my work accordingly reflected that, with an emphasis on expressionist rather than photographic images.

Between 1977 and 1983 my work became more abstract. I produced canvases stained with thin washes of acrylic which evolved into canvases torn to produce collage works.

In 1992, I went back to the figure. I had a show at A.R.C.(Artists, Residents of Chcago) of female figures, reclining, standing,swimming, and another at the Chicago Cultural center of swimmers.

After spending several months in Rome, where I taught painting at Loyola UniversityÕs Rome Center, I was able to explore the rich treasury of painting and sculpture and develop what was to become a new interest in the figure: I began a series based on the images of angels that appeared everywhere in Rome in painting and sculpture. But the angels I created were not traditional ones.

When I returned to Chicago, and to the basketball players who were making a sensation, my angels became images that jumped, danced, flew, I used strong color and expressionist drawing. And in 1996 and 2000, I had a large show of these figures, one a the Loyola University Fine Arts gallery, another at the Divine Word Gallery in Northbrook, Il.

In 2002, I was given a Retrospective Exhibition at the Fine Arts Building Gallery in Chicago of the Figure, Landscape, and Printmaking.

In 2007, I had another large exhibit titled, "The Sky" at the Concord Public Library,Concord, Ma. - paintings, drawings, and prints of clouds: stormy, peaceful abstracted,varied in color and mood.

At this time, I am preparing a new group of paintings to be exhibited at a time to be announced.